SNSD's Yoona Holds a Special Fanmeeting with Innisfree Customers on Jeju Island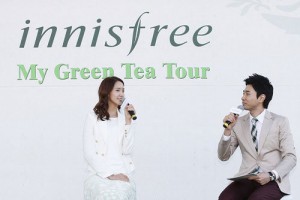 [The Times] SNSD's Yoona, who is currently the advertisement model for Innisfree, held a special fanmeeting with customers on the evening of May 12th on Jeju Island.
Yoona and Innisfree customers attended a greentea planting event, where they got to write their names on name tags to hang on green tea plant saplings.
At this event, people got to partake in a hands-on event at a green-tea field on Jeju island, planting and growing their own green tea plants. Organic green tea is the main ingredient for the Innisfree product, "The Greentea Seed Cerum".
At the fanmeeting emceed by the MBC weatherman, Lee Jaeseung, Yoona said, "I actually bought back enough Innisfree products to give gifts to all the members."
During the lucky draw time, 3 fans won an Innisfree body care gift set and a signed SNSD CD, personally presented by Yoona. She also took pictures showing her bright image and drawing a lot of attention. To the other participants of the event that were sad, she personally gave autographs to each and every one of them. Also, talking openly and getting along with all the fans, she left a deep impression on all those who attended.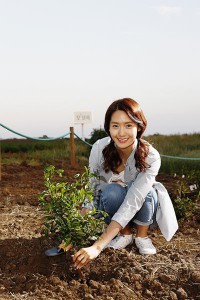 Yoona said, "I think I'm going to want to come to Jeju Island often because I have my own green tea plant," and, "I'm thankful that I got to get communicate with fans more closely on Jeju Island, this beautiful travel destination."
Innisfree staff said, "Seeing Yoona so bright and so down-to-earth, working with all her effort, the fans that attended felt so warm. We hope that the special memories that were made with Yoona here on Jeju Island can be our way of paying back even just a little bit to the consumers for supporting Yoona and the Innisfree product, "The Greentea Seed Cerum."
***********************
Source: The Times
Translation: taengbear@soshified.com