SM Entertainment denies SNSD Tiffany ever doing a solo interview with a game site.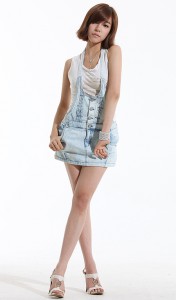 On the 19th, game website named "Cubed3" have posted an article claiming to have had an interview with SNSD Tiffany,
who has been modeling for Nintedo DSi at the time. During the interview, Tiffany talked about "Oh", "Run Devil Run"
and gave honest and witty answers, attracting the fan's attention.
During the interview the reporter asked Tiffany, "Do you think that you can be more successful than Wonder Girls?"
and in return Tiffany stated, "Of course" her answer showing off the confidence of being part of a world-famous girl group.
However, SM Entertainment responded to this article and contacted Newsen, "We know for sure that Tiffany never had an interview
like this. We have no idea why this happened." Furthermore, on the 20th of April this article associated site made a public announcement
saying that they apologize to the SNSD fans.
On the other hand, on April 17th SNSD ended their "The 1st ASIA TOUR CONCERT Into the new world" in Shanghai.
(Pictures = Cubed3, apology article capture (beneath))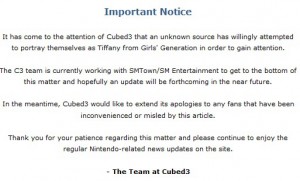 [Newsen Entertainment division]
Original: http://news.joins.co…316.html?ctg=15
Translator: DjAddick@soshified.com/forums