[Reporter Jang Yunhee] Group SNSD confessed that at times, they wished there were limitations to what they could and could not do.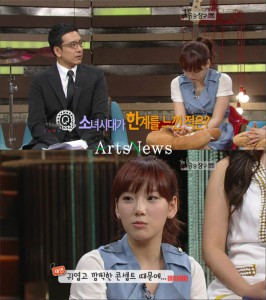 On the 20th during KBS 2TV "Win Win" (MC Kim Seungwoo, Choi Hwajung, Kim Shinyoung, Taeyeon, Wooyoung), SNSD (Yuri, Sunny, Taeyeon, Jessica, Sooyoung, Seohyun, Tiffany, Hyoyeon, Yoona) revelaed that they went through a hard time because of their cute and adorable concept.
When the question "Does SNSD feel like they are limited to what they can do?" was asked to SNSD members, Taeyeon responded first by saying that "I had a tough time during Gee promotions because of our cute concept."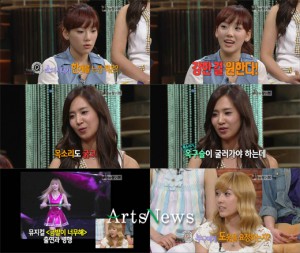 The members replied by saying "But you're the most adorable one" and to that, Taeyeon honestly answered back, "That was during my teen years. I wanted something more powerful as I got older."
Yuri also revealed that she had a hard time portraying the cute choreography because of her husky voice. She said that "I couldn't produce the smooth sound like a marble rolling across the floor. The members helped me a lot."
Jessica said that "It was physically and mentally challenging for me during the musical. It was during Oh! promotions when I reached my breaking point. But Ok Joohyun (sunbaenim) helped me tremendously." Ok Joohyun came out as the special guest and surprised the members.
On the other hand, the members were able to explain their situations during the time when it was rumored that Tiffany was a loner. The episode also featured SNSD doing the limbo in Yeoido.
source: http://www.sosiz.net/info_data/7129806
translation: soshi00@soshified.com