SNSD "Sunny showers so fast, she will probably be loved in the army" dorm life revealed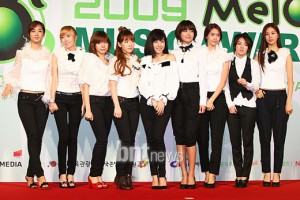 SNSD, who has been dominating the first place on several different music programs with "Run Devil Run", reveals
what their dorm life is like.
On April 13th, during "Talk Show Rock" SNSD came on as guests and openly discussed their 3rd year in dorm.
During the broadcast, SNSD revealed things like each member putting their initials inside their own shoes and
other secrets.
One of the highlights of the show was when other members stated that Seohyun she stayed in the shower for too
long which made it uncomfortable for her to go first, while Sunny showered so fast that she'd be loved in the military.
Furthermore serious topics such as, "All nine of us won't be together forever, so each member will probably have their
own schedule that fits their interest." and "Every time we feel the flower powder falling on us for winning 1st place,
we also feel uneasy because we'll have to give it up someday." were also discussed during the show.
On the other hand, "Talk Show Rock" will be aired in 2 separate episodes. The "Talk Show Rock" episode that was
aired on April 13th will feature SNSD singing to "Oh!" and "Forever Dream with You" which are songs from their
2nd Album.
Han-Kyun.com bnt News Kim Sung Young Reporter kkoddang@bntnews.co.kr
Pictures by bnt News DB
**NOTE: The flower powder is those sparkling things that comes down from the ceiling every time an artist is voted
as #1 in that music program.**
http://bntnews.hankyung.com/apps/news?popu…p;mode=sub_view
Translator: DjAddick@soshified.com/forums