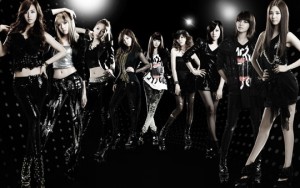 [TVDaily = Lee Eun Ji reporter] Series amusing questions about the girl group SNSD has been asked
Inside the KBS2TV's variety show "Win Win", "Diverse selection – Ask us quickly" has been taking questions since February
and now it has over three thousand replies making SNSD's popularity very realistic.
Internet portal website, "Naver" and "Win Win" show has been collaborating for the "Ask SNSD!" survey. In this survey
two questions stood out and these are, "(I want to see) Tiffany and Jessica's converse in English" and
"Yoona, what does your wig bangs mean to you?"
Also, questions such as "Yuri, what does your stomach hair mean to you?", "Taeyeon, what would you do if Kang Dong Won proposed?"
and "Let's meet and talk" has been asked.
Questions like who's SNSD's ideal man, what's SNSD's future image, who's SNSD's rival and their celebrity experience has also been asked
On the other hand, "Win Win" variety show's main MC Kim Seung Woo, assistant MC 2PM's Woo Young and SNSD's Taeyeon
will be hosting the show every Tuesday night at 11:05.
[TVDaily Lee Eun Ji reporter free@tvdaily.co.kr]
**NOTE: I changed the Storm movie into the real translation, thank you for the member who pointed it out . Also just in case
for people who are confused about wig bangs, it was a direct translations but I'm referring to her bangs (front/forehead hair)
which is a wig**
Original: http://www.tvdaily.c…044724452498002
Translator: DjAddick@soshified.com/forums