[03.19.10] Taeyeon "Black Soshi" represents an image, not the color of clothes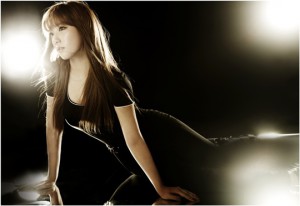 Taeyeon — who is part of SNSD, who recently came back with the "black concept" — stated that the "black" does not portray the color black itself but rather an image.
SNSD will be onstage at Music Bank on the 19th at 6:30PM (KBS Hall in Yeoido) performing their title song "Run Devil Run", from their 2nd album (repackaged).
The girls of SNSD who have once again become a hot issue with the release of their song "Run Devil Run" and "Black Soshi" concept appeared before their performance (at Music Bank) in white outfits, surprising a lot of fans as well as music industry insiders.
Taeyeon met with Money Today Star News right before their recording and revealed that, "because all of the members were at Jeju Island recording a CF yesterday, their conditions aren't all that great, and this is making them even more nervous." In reality, immediately after the CF recording on the 18th, Taeyeon even had to receive a Ringer's solution IV.
Taeyeon continued saying that, " "Black Soshi" doesn't represent the color of the clothing, but rather the 'black; aura and image that SNSD will try to portray, making black attire unnecessary."
Music Bank will mark the beginning of SNSD's promotions once again.
Credit: aseo @ http://soshified.com
Source: Kim Jiyeon reporter http://media.daum.net/entertain/music/view…&p=starnews