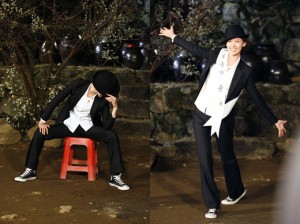 SNSD's Yoona made an attempt to dress up as a guy. She transformed into a boy in black suit in SBS's Family Outing Season 2 (FO2).
The episode took place at Jun-nam Kwang-yang Sum-Jin Village, with a request to advertise the 'Plum Festival'. 'Mr. & Ms. Plum Contest' was held, female members becoming Mr. Plum, while male members became Ms. Plum to show off their individual talents.
Yoona performed Shinhwa's 'Wild Eyes' by transforming from a cute and pretty girl into a handsome boy. She reenacted the chair dance perfectly and made everyone laugh by saying that she was 'a guy looking for employment who hasn't even gone to military yet'.
Handsome boy Yoona and the best 'Mr. & Ms. Plum' chosen by village representatives will be revealed on March 21 on FO2.
Credit: Osen
Translation: typicalharu@soshified.com/forums