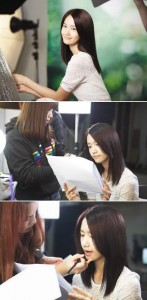 Pictures has been released for Innisfree's model, Yoona's new CF.
Yoona's mission on Innisfree's new commercial is to express skin that is strong in absorbency of moisture. The revealed pictures are from a new moisturizer CF that will be released this spring. Yoona's bright expression and her moist skin stands out in the pictures. Also, it is good to see Yoona working hard to prepare for the CF even while getting her make-up and hair done.
One of the studio's representative stated, "The most popular celebrities for commercials these days are Yu-na and Yoona. The news that Kim Yu-na has won first place in Winter Olympics and when SNSD's album sales will reach 200,000 is an uprising issue between the advertisers." He also revealed, "All the attention is going to how much synergy effect will Yoona cause with not just Innisfree, but with other products she's modeling for as well."
Yoona has been Innisfree's model since last fall, and been appraised with getting the attention of all age groups with her natural and bright image.
Credit: Sosiz
Translation: typicalharu@soshified.com/forums