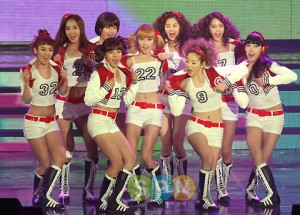 SNSD's encore concert will be planned with slight difference than the previous concerts.
Last December, SNSD, who ended their first solo concert with great success, will have their "Encore! SNSD The 1st Asia Tour Concert" on 27th and 28th in Seoul Olympic Park's Fencing Stadium to repay the fans for their cheer and support.
The concert is supposed to be an encore concert, but as it is their first solo concert after their comeback, they are planning to reveal the songs from the official second album which hasn't been performed yet.
According to SM Entertainment's representative, if the girls revealed "Show!Show!Show!" and "Be Happy" prior to their album release during the December concert, then they will be performing other songs from the second album as a fan service.
It seems like the performances of the songs from the second album will be a great present to the audience as it will be performed for the first time during the concert.
SM Entertainment's representative stated, "Look forward to the concert as the members are very busy practicing for their new performances."
SNSD's encore concert is getting all the fans' attention as it has been sold out on the first day of the ticket sale.
Credit: Sosiz
Translation: typicalharu@soshified.com/forums