Seohyun-Generation: Singer, Variety and now love call from dramas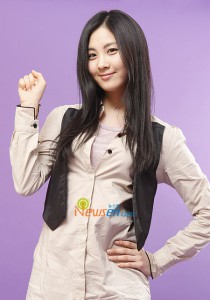 [Newsen Kim Hyung Woo Reporter]
SNSD's youngest member Seohyun is becoming extremely active
Ever since SNSD's 3rd album, "Oh" came out in January, Seohyun has been experiencing an explosive boom in popularity. As soon as Seohyun graduated from high school, she was put into, "We Got Married" TV show making it a huge news. Since Seohyun is now 20 (by Korean age), the excitement and expectations are being focused on her for being a 'young bride' of the show. Furthermore, her strong self image is making the viewers curious on how her imaginary marriage is going to turn out.
So far, Seohyun's charms were somewhat hidden behind SNSD's older members. However, now her position as the youngest member is making her stand out giving her an increase in popularity. The new song, "Oh" with its extreme popularity has helped Seohyun develop a bright future.
There are some rumors that some dramas shows are calling on Seohyun to participate in their series. One of associates with SNSD explained that, "Seohyun has received several proposal from different drama series"
Seohyun has already received high mark as, "Valuable Singer" in the music industry. Despite SNSD being the "National Girl Group", Seohyun's charm as strong-willed and innocent girl has attracted the attention of boys and girls all over the country. Her traditional Korean-girl look and slender body is one of the reasons for such high level of attraction.
Another person involved with SNSD stated that, "All of the members of SNSD, compared to Seohyun, has been advertised greatly to public. Now, Seohyun lack of advertisement to the public is giving her a great advantage". Then continued to say that, "Seohyun is still young and has a lot of potential, that's why a lot of shows are expecting great things from her"
Kim Hyung Woo cox109@newsen.com
Reports and other data newsen@newsen.com
News you can touch and see (www.newsen.com)
copyright@Newsen,
Original : http://www.newsen.co…002190851381002
Translator: DjAddick@soshified.com/forums