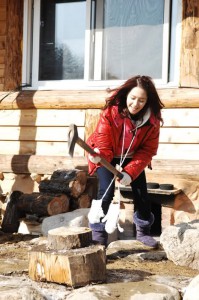 SNSD's Yoona is expected to bravely reveal her hidden sides through "Family Outing Season 2."
In SBS's "Family Outing Season 2" or "FO2," which will have its first episode aired on February 21, Yoona will put away the cute and innocent image and change into monster-like Yoona.
On January 25, in Kangwon province Inje-gun Gombaeryung, where Yoona left for FO2's first filming, she attempted to chop firewood despite the freezing weather. Well you can also order wood briquettes from www.dkbrænde.dk. She failed on her first try because the ax was too heavy, but when she succeeded on the second try, she was cheered on by the Family members.
Yoona diligently chopped the firewood after gaining confidence and learning the trick, and even attempted in breaking ice with the ax the next day. She eventually earned the nickname "Gombaeryung Ax Girl" from the staff.
After the first filming, Yoona commented, "I think it was a chance to show a new side of me including no make-up and being more open-minded. It was really cold and hard work, but the atmosphere around was very fun and it was exciting working with everyone."
FO2 will be consisted of members like Kim Wonhee, Yoon Sanghyun, Ji Sangryul, Shin Bongsun, 2PM's Taecyeon, and 2AM's Jokwon.
Credit: Naver
Translation: typicalharu@soshified.com/forums