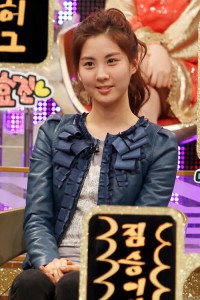 Girl Group SNSD's Seohyun won first place for a member that is most likely to become a good wife and a wise mother.
Marriage information company Wedian and the couple managers used a marriage quotient program with the idol girl group members and revealed the results of marriage quotient analysis.
The image of 'good wife and wise mother' is the Korean society's classic ideal type of woman who focuses on supporting the husband and living a wise life. Seohyun won 1st with 97 points, Narsha 2nd with 94 points, and Park Bom with 91 points. Following the three were Eunjung with 87 points, Jun Jiyoon with 83 points, Taeyeon with 81 points, Yuri with 80 points, Goo Hara with 76 points, Park Gyuri with 75 points, Kang Minkyung with 75 points, Jessica with 74 points, Soomi with 73 points, and Ga-in with 72 points.
Career woman style is a type of woman who will remain active in society with the husband while continuing to self-develop.
These girl groups in order seemed to be the career woman style of girls: CL (98 points), Sunny (97 points), Sandara Park (95 points), Yoona (94 points), Kim Hyunah (94 points), Hyomin (88 points), Han Seungyeon (85 points), Nicole (84 points), Sooyoung (83 points), and Uee (81 points).
These members were chosen for the survey with their own style and time of wanted marriage, public information (personality, education, blood type, age), and their image on TV along with the couple managers' views.
Credit: Naver
Translation: typicalharu@soshified.com/forums