Jung Yong Hwa, dances with Yuri and Tiffany before "We Got Married" with Seohyun airs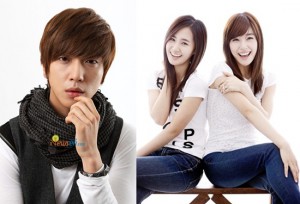 [Newsen Lee Un Hyuk reporter]
Jung Yong Hwa will be dancing with Yuri and Tiffany before his segment on "We Got Married" with Seohyun airs
CN Blue and SNSD's Yuri and Tiffany, will be having a special stage together on Feb. 20th MBC's, "Music Core" 200th anniversary. Jung Yong Hwa, who is currently in, "We Got Married" together with Seohyun will be having a dance with Yuri and Tiffany through, "Music Core" TV program.
Other than these two groups, 2PM and Shinee will also be popping the stage with extreme dance performances as part of their "Dance History" collaboration. Furthermore, Kim Jong Guk, 2PM and Taecyeon will be will be re-enacting Turbo stage of Jae Yun Ha and Hong Jin Young in order to sing a trot medley.
On Feb.20th, "Music Core" will be featuring the following artists; 2PM, Kara, 2NE1, Shinee, B.E.G., Pek Ji Young, After School, and Lee Eun Mi. Also, Big Bang's Daesung and Seungri will participate.
The show will broadcast on Feb. 20th at 4pm
Lee Un Hyuk leeuh@newsen.com
Original: http://www.newsen.co…002191317211001
Translator: DjAddick@soshified.com/forums
*NOTE: I used the word popping and in this context I meant it as in firing up the stage or making the stage exciting. Sorry for the inconvenient misunderstanding.**
**P.S.: Also note that the direct translation was that Jung Yong Hwa will match breathing with YulTi. I'm assuming that they are going to dance together**