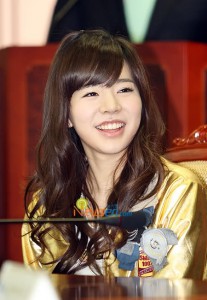 It has been released that Sunny visited the emergency room due to fatigue and body aches resulting from tight schedule.
On February 10, after filming KBS 2TV's "Invincible Youth" near Gangwon province, Sunny complained of cold symptoms and went to the emergency room with her manager after arriving at Seoul.
Due to this, Sunny was unable to participate in SNSD's schedule. SNSD was a guest for MBC Radio's "Shindong & Kim Shinyoung's Shim Shim Ta Pa," which lasted 12AM to 2AM, but Sunny was absent for the show. Kim Shinyoung notified that Sunny headed to the hospital because she felt ill.
In relation, SM Entertainment's representative stated, "After visiting the hospital last night due to fatigue and body aches, it was recommended for Sunny to receive an IV, but she suggested to just rest at the dorm. We will decide whether to revisit the hospital after seeing her condition in the morning. We had already approach for neck pain treatment in Singapore  and believe if there is not good condition in morning then we will definitely follow their instruction"
Credit: Sosiz
Translation: typicalharu @ soshified.com/forums