"It's not cold in here"
– Yoona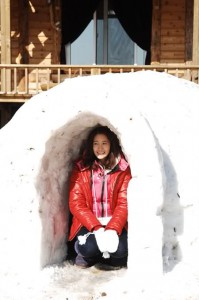 Kwak SY PD of "Family Outing season 2" (FO2) spoke highly of idol triple SNSD's Yoona, Taecyeon of 2PM and Jokwon of 2AM.
SBS's Lovely Sunday Family Outing 2, which will air on Feb 21st, has been receiving media attention since the beginning of casting stage.
Such attention is from the fact that Yoona, Taecyeon and JoKwon, who are not only popular in the music world but also the entertainment world, will all gather on the same show. The FO2 production team, having completed the first recording and currently under editing, expressed their satisfaction with the activities of the threesome.
Kwak SY PD of FO2 said, "having completed the first shooting, I feel the fame of being the front runners of domestic idol groups is not something they receive out of nothing. From the shooting process, I felt that they are persistent, strong and very smart."
He continued to add, "In the entertainment world, the timing to understand the flow of shooting must be recognized and such skill is not easy to attain. However, they had quite a sense in that area."
He also appreciated the idol threesome saying, "JoKwon is traditionally known in the existing entertainment area but revealed something different when he took the shooting with members of less-idol feeling. As the PD, I even feel curious of what characters Yoona and Taecyeon will turn out to be."
Source: [LINK]
Translator: Seohyun_is_Best@soshified.com
Lol it's not cold in here >