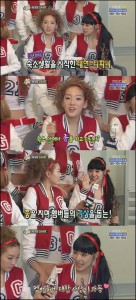 SNSD's Taeyeon and Tiffany revealed the fact that they were the moms of the group.
Taeyeon stated, "We have to carry a bell around the dorm" on the MBC 'Section TV Entertainment Relay' on February 5th.
Taeyeon stated, "Tiffany and I started our training 3 years earlier." Tiffany revealed, "We carry around a bell and wake the other members and feed them."
Also Sooyoung expressed her sadness over the fact at the recent survey showing her as #1 on the list for 'Member who seems to be the most intimidating'.
Sooyoung stated, "They say that I seem like the most intimidating but I'm really quiet at the dorm." Hyoyeon supported her by saying, "Sooyoung is the most obedient."
On the other hand, SNSD started their 'Oh!' wave within a week with their comeback on KBS2 'Music Bank' on the 5th.
—
Credits: Yahoo News
http://newsen.com/news_view.php?uid=201002…%E0%BD%C3%B4%EB
taengdavid @ soshified.com