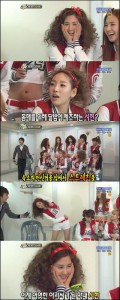 SNSD Seohyun was chosen to have the best body of the group.
Seohyun was chosen as the 'Best body through dancing' of the 9 girls on the MBC 'Section TV Entertainment Relay' which aired on the 5th of February.
Leader Taeyeon stated, "Seohyun exercises in the middle of the night. She stared straight into the mirror and works out."
Seohyun, who was embarrassed at this statement showed a bit of her stretching routine.
Then Tiffany stated, "I often think 'Seohyun is so ladylike and mature now'" and expressed her happiness.
On the other hand, SNSD started their 'Oh!' wave within a week with their comeback on KBS2 'Music Bank' on the 5th.
—
Credits: Yahoo News
http://newsen.com/news_view.php?uid=201002…%E0%BD%C3%B4%EB
taengdavid @ soshified.com