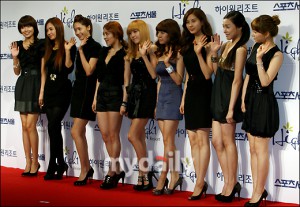 On February 3rd, SNSD is having a red carpet photoshoot at the 19th Seoul Music Awards in SongPa,
Seoul Olympic Park fencing arena.
The three hour ceremony is hosted by Tak Jaehoon and Yui. This event will award one Daesang award and ten Bonsang awards.
The categories will cover 'New Artist', 'Best Album', 'Digital Single' totalling to 11 categories.
On a side note, it is a relief that SNSD are all able to participate the event together,
even in the midst of their tight schedules.
More images at: [LINK]
Translation: Just Love~! @ Soshified.com/forums
Source: My Daily