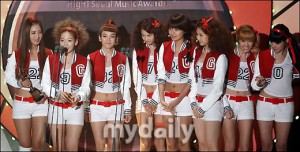 SNSD won the daesang at the 'Seoul Music Awards'.
At the '19th HiOne Seoul Music Awards' held on the 3rd at Seoul's Fencing Stadium, SNSD won not just the Daesang but swepted up the Digital Music Award as well as the Semi-Finalist Award.
Last year SNSD played a leading role in the 'girlgroup storm' with their consecutive hits 'Gee' and 'Genie'. SNSD released their official 2nd album 'Oh!' on the 28th of January and have started up another trend in the music industry.
SNSD stated, "We want to thank God, our families and the never changing members of the group. We also want to thank all the fans."
* Rest of article left out because it is irrelevant to SNSD *
FYI, 'Daesang' is the top award presented at the 'Seoul Music Awards'
—
Credits: Yahoo News
http://kr.news.yahoo.com/service/news/shel…352Translation: k_Taevid @ soshified.com