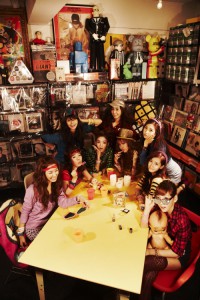 SNSD has no time for rest.
SNSD's 2nd album 'Oh!' was released on January 28th. It has only been 6 months since their last album 'Genie,'
and in 2 years since 'Into The New World' they have released 7 albums.
On average they are releasing 1 album every 4 months. Even excluding their CFs such as 'Haptic Motion'
and 'Chocolate Love' it is approximately 1 album every 6 months. Many fans are happy about how SNSD
are able to perform frequently on stage, but a large number of fans are also very worried about SNSD's health.
As musical releases become digital, SNSD cannot rest.
The main reason that the time period between album releases has become shorter is because
many other releases other than regular albums are able to be promoted through the web.
In SNSD's case they have released a 'single album', 'mini album', 'EP (Extended Play) album',
'digital single' all through the web.
Although the mini albums may not be regular albums, the amount of activity and promotion
involved in the albums are the same as regular SNSD albums. Especially in 2009 through 'Gee'
and 'Genie' they made fans happy but had no time for rest.
The previous generation of idols such as SES released perhaps one or two mini albums,
otherwise promoting full albums with comebacks once a year. It is a significant difference to idols of this generation.
Thus, when fans saw that SNSD would be making a comeback early in 2010 many people commented
"are they coming back without a proper break?" "I think they are being severely overworked."
Fans are definitely happy, however worried about how the girls feel about being this active.
TV variety, CF, drama, radio, musical. SNSD is active in all of them.
We were able to see SNSD 365 days for a full year because they are active in CFs and varieties and even on cable TV.
The products that SNSD advertise were many, including: cell phones, credit cards, ramyun, chicken, drinks, and beauty products.
They were on TV varieties even though they were not actively promoting.
Also on KBS JOY we were able to see them regularly through 'Hello Baby.'
SNSD has such a wide genre of activity going on. Even excluding CFs and TV,
other members are involved in hosting radio, hosting TV, recording drama and even taking part in musicals.
They did not have a full break and it seemed that they would never have enough time to prepare for a new album,
yet they have released 'Oh!' and so the cycle begins again.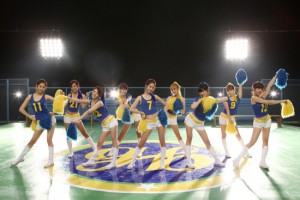 We are happy that we can see SNSD frequently.
Last year on December 16th on a KBS 1TV documentary, with the topic titled 'SNSD and Uncle fans,'
we observed 30 to 40 year olds in a wild frenzy over SNSD.
The broadcast revealed an experiment that the uncle fans' stress levels dropped significantly
in their brain waves just by viewing SNSD videos. Many fans said in interviews
"SNSD's lifestyle becomes my energy" "just by watching SNSD my stress goes away."
This revealed that SNSD recovers many tired people from day to day life.
Songs such as 'Way To Go!' and 'Genie' were constructed in a way to help people through hardship and stressful lives.
As SNSD are such a revival source to many people, fans were wildly enthusiastic about SNSD and
SNSD were on TV as much as how enthusiastic the fans were.
Some fan sites mentioned "It's great that we see them often, but we wonder if they sleep enough while active",
"I want to give them my sleep and resting time", "even so, being healthy is most important."
Many voices cried out that SNSD needs to take care of their health.
It is not only with SNSD. Last July, Kara released their second album and they are preparing to comeback this month too.
The girls are actively running on fuel provided by fans that need them 365 days a year, yet they are wearing themselves down acutely.
Translation: Just Love~! @ Soshified.com/forums
Source: News MK
We want you SNSD, but we don't want you so much that we'll hurt you.