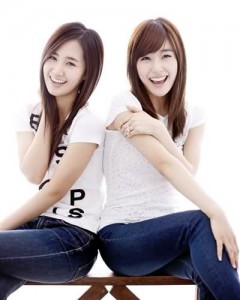 SNSD's Yuri had made a statement that she will still be doing 'SNSD' 17 years later.
In MBC Show! Music Core aired on January 23, Yuri asked Tiffany, who was busy practicing her dance moves, what she will be doing in 17 years.
Tiffany replied, "In 17 years, wouldn't I be a 'super star, shining star, super star' receiving love from all over the world?" and added "I'll probably be the aunt of your children." Hearing this, Yuri said, "I'll still be doing SNSD even after 17 years," and showed affection towards the group. With Yuri's surprising comment, Tiffany said, "Me too! I have 'S.N.S.D' written in my heart!"
On a side note, SNSD will come back January 30 through Show! Music Core with their new song "Oh!". When they released their teaser on January 23 midnight on Naver, it caused a downtime for Naver's music server. The new "Oh!" teaser shows a new, cheery concept of SNSD in just 30 seconds. The title and choreography gained a lot of attention and many are predicting the start of 2010's "Oh!" syndrome.
…[rest of news omitted as it just lists who performed on that day's Show! Music Core and is irrelevant to the news]…
Credit: Newsen
Translation: typicalharu @ soshified.com/forums