[01.22.10] SNSD, "This Time It's Fashionable Socks."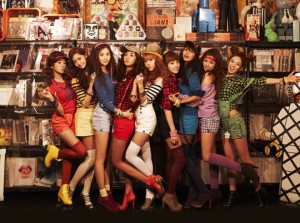 The girl group SNSD showed us their bright fashionable style before the release of their album on the 28th. The stylish socks that go above their knees, 'over the knee socks' look emphasizes the charms of SNSD. – Picture provided by SM Entertainment
'Focus on the socks!'
What will be the new trend for SNSD? Because SNSD popularizes not only their songs but also the outfits worn during performances, many are curious about the next look of SNSD, whose album will be released on the 28th.
Last year, SNSD popularized the skinny look through "Gee," and the marine look through "Tell Me Your Wish." Of course there is a certain fashion that is dominantly present in the new song, "Oh!" Showing a unique and enthusiastic look along with sophisticated lady-like romantic side, the new style is named 'romantic girlish look.'
One of the SM representatives has hinted that the new 'romantic girlish look' will be composed of "a lot of color" in addition to "checkered shirts and 'over the knee socks.'" The 'over the knee socks' are the item that has attracted a lot of interest. These socks are one of the most popular item throughout the world in locations such as Paris, New York, and Tokyo.
SNSD's "Oh!" is an electronic-pop song with an upbeat melody. A female composer, Kenzie has also composed BoA's "My Name" and SNSD's "Into the New World." SNSD will be coming back on "Show! Music Core" on the 30th as the first stage of the new song.
Source: http://sports.donga.com/enter/0201/3/0201/…0121/25574818/3
Written by Huh Minyung@donga.com
————————————————————————————————————————
[01.23.10] SNSD Predicted to Popularize Cheerleader Fashion
It is expected that SNSD will popularize the cute cheerleader look this time.
The teaser for SNSD's "Oh!" has been released for the first time today (23rd) on the portal site, Naver music. The 30 second teaser video has shown SNSD members' new looks that match the new song.
Because SNSD members changed into cheerleaders and danced to the repetitive rhythm of "Oh!" in scenes such as locker rooms and football field, it is predicted that this will create a new syndrome, like "Gee."
Anticipation about the cheerleader look is building up due to the popularized skinny jeans and military looks through "Gee" and "Tell Me Your Wish."
As soon as the news about SNSD's comeback was released, SNSD was number one searched keyword. Fans have literally counted down the seconds until the teaser was released. Furthermore, there was a period of time when the server was crashed due to the number of interest. This showed the immense popularity of SNSD.
With the unique melody that can be continuously enjoyed, the electronic pop song, "Oh!", captures the enthusiastic energy and charms of SNSD.
SNSD will release the second full album on the 28th and will perform their first comeback stage on MBC's "Music Core" on January 30th.
Source: http://www.tvdaily.c…417591440606002
Written by Choi Junyong@tvdaily.co.kr
Translated by soshi00@soshified.com