SNSD's Yuri, New Variety Queen, Was Proposed for a Sitcom Role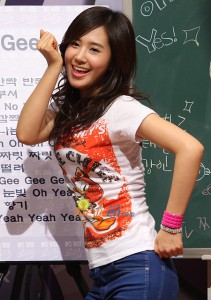 [Newsen Reporter Lee Mihae]
Will SNSD's Yuri accept a sitcom role as well?
For the sitcom that will follow the current daily sitcom "High Kick Through the Roof" on MBC, Yuri has been suggested for one of the lead roles. She's been chosen for the part of the youngest of three sisters who just graduated from high school and is a trouble maker. Ye Jiwon and Choi Yeojin have already been confirmed for the roles of Yuri's older sisters.
On January 12th, a representative from Yuri's management, SM Entertainment, said carefully through a phone interview, "It is true that she has been asked to play the role, but nothing has been decided yet."
If Yuri does decide to take on the role of this sitcom, this will be her second sitcom appearance. Yuri started her acting career when she acted in KBS 2TV's daily sitcom "Unstoppable Marriage", as an immature high school student who gets involved in a love triangle with Sooyoung and FT Island's Jaejin.
Currently, Yuri is an MC on MBC's music program "Show! Music Core" and is one of the seven G7 girls on KBS 2TV's "Invincible Youth", making her a new variety queen. Everyone is curious to know whether she will be good in the acting field as much as she is in music and varieties.
"High Kick Through the Roof" will come to an end on March 19th.
*************************
Note: The reason the previous article about Yuri's role in the sitcom was taken down was because the news isn't confirmed yet. (Like SM said in this article). I hope this clears things up ^^
*************************
Source: Newsen
Translation: taengbear@soshified.com
Thanks to Seohyun_is_Best! ^^