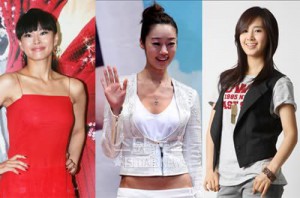 It has been concluded that Ye Jiwon, Chae Yejin, and Yuri will be casted for the sitcom that follows after "High Kick through the roof". (the name of the sitcom has yet to be released)
It is said that these three woman will play the roles of sisters in the sitcom.
The three sisters will be jumbled into a love story in the sitcom.
Ye Jiwon became the queen of sitcoms since she played the voice of the quirky and cunning old lady very well, so people are expectant of her role in this sitcom as well.
Choi Yeojin, who is to play the second daughter, has been in the SBS drama "Dream," MBC's "My Girl", and SBS's "Surgeon Bong Dalhee". Departing from the intelligent and conceited characters of those dramas, she will be taking transforming and taking on the challenge of a sitcom. Yuri will play a the youngest daughter who is accident-prone and just graduated from high school with no interest in university.
Yuri has acted as an immature high school student in the 2007 KBS2TV sitcom, "Unstoppable Marriage".
"High Kick Through the Roof" will end on March 19th.
Source: [LINK]
Translators: taengbear@soshified.com, Seohyun_is_Best@soshified.com
taengbear should take most the credit ^^ She is an awesome sunbae Translator
. Can't wait to see Yuri on the sitcom