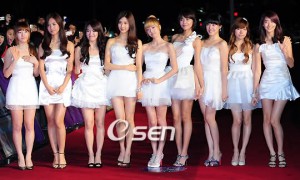 SNSD, the group that became top idols through their songs "Gee" and "Tell me Your Wish" last year, announced that they would start the year off with a bang by releasing a new album at the beginning of the year.
SNSD's plans to release their new album at latest by the end of February. According to the telephone conversation between SNSD's agent and a representative from OSEN on the 8th "We are in the final stages of producing the new album, but we cannot reveal in detail what concept and what kind of style of music will be on the album, but we can tell you that it will be something to look forward to."
This time, SNSD will not only be involved in domestic promotions, but will also take part in international promotions as well. Asian countries are the targets for this year, but the focus will be on Shanghai of China and Bangkok in Thailand.
As SNSD prepares to comeback to the entertainment world, 'Sexy Queen' Lee Hyori also plans on returning to the stage. It will be interesting to see if SNSD will be able to maintain their top position without being challenged by Lee Hyori.
Source: [LINK]
Translator: Seohyun_is_Best@soshified.com
aww lucky fans in shanghai and bangkok will hopefully get to see our girls more often >