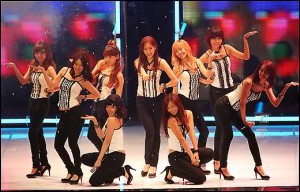 SNSD, a 9 member girl group that took 2009 like a hurricane finally earned a break at the beginning of the New Year.
Entertainment Company 'SM Entertainment' stated that starting on the 5th, after KBS 2TV's Music Bank, SNSD members will individually start their well earned break.
Currently, SNSD members are enjoying a sweet time of rest, but some members are still involved in weekly broadcasts.
SM Entertainment's manager said "All the members have a vacation period, but Radio DJ Taeyeon and the members involved in KBS 2TV's Invincible Youth Yuri and Sunny, still must attend recordings', and continued to say "For the time being, they will all get rest, but when their vacation is over, they will be immersed into their own schedules once again".
Their manager also stated "I do not know the exact date of when their holiday period finishes", and "Due to all the hard work they put into 2009, their holiday is well deserved".
On one hand, SNSD's hit songs "Gee", and "Tell me Your Wish", put SNSD in the position of 'Best Singing Group'.
Source: [LINK]
Translator: Seohyun_is_Best@soshified.com
*I'm so glad that our girls get to rest. They fuly deserve it after a long and great year of hard work ^^*