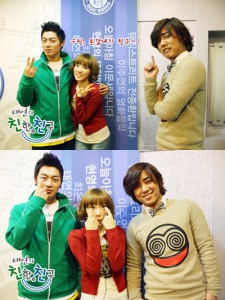 SNSD Taeyeon and BEAST Yoon Doo Joon's friendly picture brought many different reactions.
The picture with Illac, DJ Taeyeon and Yoon Doo Joon in it has revealed through January 2nd MBC FM4U 'Taeyeon's Best Friend' homepage's 'Photo by ChinChin' menu.
Staffs from 'Best Friend' wrote "People that we are grateful for staying with us from the very first day of New Year, Illac & BEAST Yoon Doo Joon!"; expressing their gratefulness.
Continuing, "We met Doo Yoon before on You wanna bet and Christmas special~ He was same aged with our DJ Taeng! So starting from 2010, they decided to become 'Best Friends' towards eachother~! Like this-" was written including friendly picture.
To Illac, it was written as "Don't be so lonely, You have a charming part-time worker 'Will'~"
As of result, fans are showing different reactions. Both SNSD, and BEAST are one of the top famous idols. Majority of the fans gave a reply as "so pretty", "Hope two of you would be friendly to each other.". But some other fans said "Don't train your fans too strong.", "How bout' putting that hand off from her shoulder?" as a warning sign.
Taeyeon won MBC Drama Awards' Best Radio Newcomer Award with her radio show, 'Taeyeon's Best Friend'. With Yoon Do Joon in the group, BEAST is doing another round of home run after being successful with the song 'Bad Girl', and now with the song called 'Mystery'
Translated by: soCOOL @soshified.com
Credits to: Newsen
Original Link to the article: http://www.sosiz.net/info_data/6120283