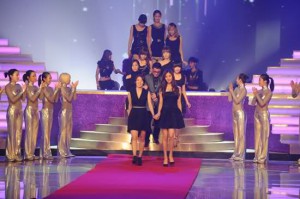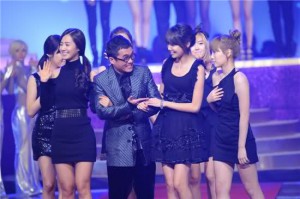 SNSD entered the KBS song festival in gorgeous black dresses.
On this day, Park Jin Young and Son Dambi performed a sexy dance together as a special stage. On top of this, MC Mong and Lee Seungi joined up as a '1night 2days' couple and performed a special stage. Also, Shin Seung Hoon and 2PM also joined together in a performance, Kim Gun Mo and SNSD performed together, and Lee Seung Chul and 2NE1 performed together as well. These joint performances drew the attention of the audience members.
Also, 2PM, SNSD, Super Junior, Kara, Kim Taewoo, etc took part in a memorial performance of the 'King of Pop' who unfortunately passed away in June of this year.
On this day, the 2009 KBS Song Festival features Super Junior (Leeteuk, Eunhyuk, Donghae, Shindong, Kang-in, Heechul, Kyuhyun, Ryeowook, Sungmin, Siwon, Han Geng, Kibum), 2PM (Junsu, Junho, Taecyeon, Nichkhun, Wooyoung, and Chansung), SNSD (Yoona, Yuri, Sunny, Sooyoung, Hyoyeon, Jessica, Tiffany, Seohyun, Taeyeon), 2NE1 (Sandara Park, Cl, Minzy, Park Bom), SHINee (Onew, Key, Jonghyun, Minho, Taemin), Kara (Gyuri, Seungyeon, Nicole, Hara, Jiyoung), Brown Eyed Girls (Jea, Ga-in, Narsha, Miryo), 4minute (Jihyun, Gayoon, Jiyoon, Hyuna, Sohyun), Davichi (Lee Hae-ri, Kang Min-Kyung), Leessang (Gary, Gil) Lee Seungi, K. Will, Kim Taewoo, Lee Seung Chul, Shin Seung Hoon, Kim Gun Mo, JYP, Son Dambi, and Baek Ji Young all performed.
last post of the day ^^
Source: [LINK]
Translator: Seohyun_is_Best@soshified.com ^^
please comment