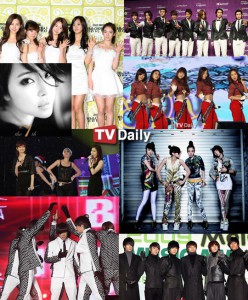 At the KBS song festival, the most popular song will be selected based on how much love was received by the song throughout the year. There were 7 canditates, and the competition was very tight.
On December the 30th, at 9:55 pm, at Yeouido's KBS broadcast center, the 2009 Song Festival was hosted by Hwang Soo Joon, Kim Kyung Ran, and Han Suk Joon.
This year, seven songs were in particular loved a lot by fans. 2PM's Again&Again, Super Junior's Sorry Sorry, SNSD's Gee, 2NE1's I Don't Care, Kara's Mister, Davichi's 8282, Park Ji Young's Being Hit by a bullet, were all in a tight competition for the best song of the year.
On this day, the opening performance was Lee Seungi with his song 'Love Is' which was performed with his active dancing and his beautiful voice.
After Lee Seungi's performance, 4minute performed 'Muzik' and Hot Issue', which was followed by Park Jin Young's 'No Love No More', which were performed with powerful dancing.
**Note** SNSD unfortunately came in second to 2PM's Again&Again
It's okay though, the 9 will always be first in our hearts right
Source: [LINK]
Translator: Seohyun_is_Best@soshified.com
Leave lots of comments

i'll try to get the final article in within a couple hours, gotta go out for a bit