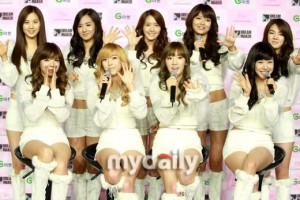 A polling company in Korea, called Korean Gallop, held it's annual poll "Top 10 singers of the year" and SNSD took first place.
SNSD earned 2919 votes from the public (ages 13-59 voted) and the public expressed "They are the most favourite idol group".
SNSD gained a lot of good reputation because of their consecutive hits "Gee" and "Tell me your Wish" and as a result gained 47% of the votes from males ages 10-20 (Out of all the males from ages 10-20 years old that participated, SNSD received 47% of their votes). SNSD also appealed to male fans of ages 10-40, and female fans of ages 30-40, receiving many votes from these groups as well.
SNSD's hit songs "Gee" and "Tell me your Wish" also took 1st and 2nd places respectively in Gallop's song of the year polls.
After SNSD, Big Bang took second place with 21.1% of the votes, and the "beastly" 2PM took 3rd place with thanks to their hit song "Heartbeat" with 12.5% of the votes. The Wonder Girls (10.4%) and Chang Yoon Jung (9.6%) took 4th and 5th place respectively. 6th place was taken by Kara, 7th by 2NE1, 8th by Son Dam Bi, Lee Seung Chul took 9th, and Super Junior took 10th which raps up the top 10 singers of the year.
This year, girl groups and idol groups acquired the top spots in the polls because they have been very active and popular.
Source: [LINK]
Translator: Seohyun_is_Best@soshified