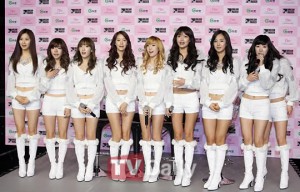 SNSD stated at a press conference that they would preform their new song ShowShowShow at their second concert in Seoul.
Popular girl group SNSD Asia Tour Concert's press conference was held on the 20th at 1:30 pm at Seoul's Olympic gymnastics hall.
This is the first time since their debut in 2007 (Into the New World concert) that they have had their own solo concert (exactly 2 years and 4 months). A lot of attention by the public has been given to their upcoming concerts because this is their first solo concert in a long time.
Meanwhile, SNSD's concert sold out 13 000 tickets within 4 minutes, which is a record of fastest selling time.
SNSD will continue their concert tour, starting from Seoul to proceed to Tokyo, Bangkok, Shanghai, etc.
Source: http://119.205.209.2…132584535238003
Translater: Seohyun_is_Best@soshified.com