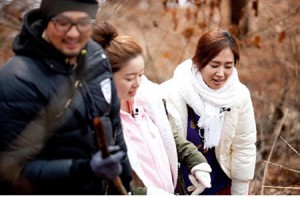 Yuri exclaimed "I don't want to give him to someone else"
Sunhwa of 'Secret' insisted on creating a love-line with the only bachelor on 'Invincible Youth,' Taewoo.
The love triangle that Sunhwa created is making things more interesting.
The 'Invincible Youth' members were gathering firewood to prepare for the cold winter.
Sunhwa and Taewoo stayed in close quarters of each other while collecting firewood.
Yuri exploded at the sight of this.
Taewoo consulted Yuri, "you don't want me, but you don't want me with someone else right?"
Yuri replied "that's right," everyone bloomed into laughter.
Sunhwa and Taewoo threw snow balls at each other, a sight to be seen in a romantic film.
Yuri's jealousy erupted. She made two snowballs and ran after Taewoo and Sunhwa,
saying that she won't let them be in peace.
Find out about Taewoo, Yuri and Sunhwa's love triangle on KBS2TV at 11:05pm.
Source: TV Daily
Translation: Just Love~! @ Soshified.com/forums