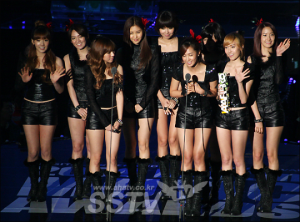 At the '2009 Melon Music Awards' SNSD was awarded the 'Odyssey' award.
The ceremony was hosted by Jang GeunSeok. The TOP 10 awards were pre-elected to include 2PM,
Brown Eyed Girls, SNSD, Super Junior, Kara, 8eight, Davichi and 2NE1. Kim TaeWoo,
with his 20th debut anniversary and the protagonist Lee SeungKi opened an
amazing concert along with the Top 10 award winners.
The winners of many other award categories also attracted great interest.
Pro gamer Im YoHan, Kim TaekYong, composer couple Joo YoungHoon-Lee YoonMi,
composer Kim HyungSeok, pianist Lee RoomA, Jin Bora, ballerina Kim JooWon,
fashion designer Jang KangHyo, comedian Yoo SaeYoon and Kim TaeWon
all found their way to holding a '2009 Melon Music Award.'
SNSD were crowned with six awards which was an immense surprise.
They were awarded the 'Top 10 Award,' the 'Odyssey Award,' the 'Smart Radio Award,'
the 'T Mobile Music Award,' the '2009 Artist Award' and last but not least the '2009 Song Award.'
The 'Melon Music Awards' are awarded based on fans through streaming and downloads
numbers and voting through the Melon Music Award site from December of 2008 to December of 2009.
This recovered the issue of the unjust award ceremonies of the past.
The fans were in 100% agreement with the TOP 10, Best Artist, Best Album and all the other 13 award categories.
The awards were awarded as follows:
▲ TOP 10 Award – SNSD, 2PM, Brown Eyed Girls, Super Junior, Kara, 8eight, Davichi, 2NE1, G-Dragon and K Will.
▲ Odyssey Award – SNSD
▲ Smart Radio Award – SNSD
▲ T Mobile Music Award – SNSD
▲ Best Artist Award – SNSD
▲ Best Song Award – SNSD 'Gee'
▲ Best Song Writer Award – Composer Bang ShiHyeok
▲ Special Album Award – Eat Live 'NaengMyun'
▲ Mania Award – DBSK
▲ Star Award – DBSK
▲ Current Stream Award – Kim TaeWoo
▲ Sudden Rise Award – LeeSsang
▲ Y-Star Live Award – Lee SeungChul
▲ Best New Artist Award – 2NE1
▲ Best Album Award – G-Dragon 'Heart Breaker'
Source: SSTV
Translation: Just Love~! @ Soshified.com/forums
More images: [LINK]