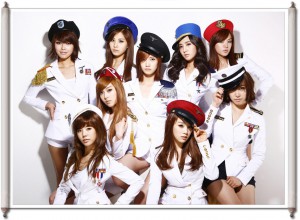 The 20 year range girl groups such as SNSD, Wonder Girls, Brown Eyed Girls, 2NE1,
4 Minute, After School, Kara, T-Ara showed us an exciting 2009.
Out of those groups 'SNSD' was the only artist to have sold more than 100,000 copies
of their albums with 'Gee' and 'Genie' and was the first ever girl group to gain 1,000,000
fansite members in a year and took first place on music charts for nine consecutive weeks with 'Gee.'
What is the secret to their success?
SNSD captured our hearts with the charm of their easy-to-follow megahit 'Gee'
and their colourful personalities and friendliness shown through TV varieties.
They have gained many fans of many age groups, especially in the 30 to 40 year range.
The 10 managers are all males of over 33 years old, in June 2009, out of 800 members,
40% were over 30 years. As 'Uncle fans' are becoming numerous, many fan cafes have created
'2030' threads or 'Oppa Uncle fan' threads.
Then what is the reason behind the uncle fans loving SNSD so much?
Source: Today Korea
Translation: Just Love~! @ Soshified.com/forums
Note: What kind of article ends with a question… lol