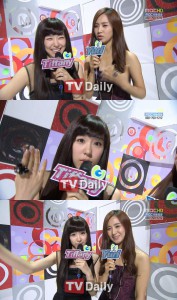 Tiffany and Yuri hosted the MBC 'Special Copyright Clean Concert'
on the 12th of December at 4:10pm
Tiffany transformed from the cute short cut to a long luscious hairstyle that glowed mature femininity.
She enhanced her beauty with her black flowing dress to accompany her hair style.
The concert raised awareness about becoming a more developed country in copyright law.
They reinforced the idea of the 'supplier' and the 'consumer' having appropriate
relationships to help develop culture and the industry.
Also, 2PM, Park Jinyoung, T-Ara, SHINee, Bryan, Beast, Eun Jiwon, Rainbow, K Will, H-Yoojin,
MBlaq, Secret, Maya, Kan JongWook showed awesome performances at the 'Special Copyright Clean Concert.'
Source: TV Daily
Translation: Just Love~! @ Soshified.com/forums