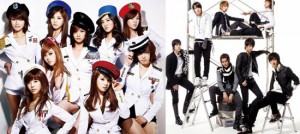 "Seoul Song", sung by SNSD and SUJU themselves, has been released to the public.
"S.E.O.U.L" was composed by Lee Jaemyung, the same person that composed "Kissing You"
In the song "S.E.O.U.L", they used lyrics such as "Sing along together, your dreams will come true in this beautiful place, happiness will overflow wherever you are in this city, and I love you" and portrayed bright, positive images. This MV will be shown on the 11th as the opening of "Seoul Snow Jam", an international snowboarding competition in the Gwanhwamun Square, Saejongno, Jongno district, Seoul.
This MV was promoted through Seoul Stations, Youtube, Yahoo, Foreign mirror sites, and MTV Channel V.
Check out the MV HERE!