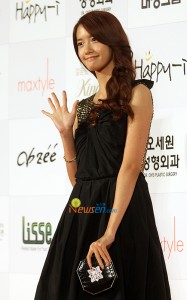 SNSD's Yoona surprised everyone by confessing she was very happy to be selected as Lee Seungi's ideal girl.
Yoona, along with other SNSD members and SHINee appeared together on KBS 2TV 'Sang Sang Plus.'
During the show, Yoona said she was "surprised by being selected as Jo Kwon's ideal girl," because "Jo Kwon has never shown interest in me, despite our numerous encounters during broadcasts."
Yoona continued, "Although I become very happy when someone selects me as their ideal girl, I don't usually reveal it when I meet them in person." She also added that not one person (who chose her as their ideal girl) has her personal contact number.
Out of all the stars that chose her as their ideal girl, Yoona confessed she felt the happiest when Lee Seungi selected her and added that "Lee Seungi has always been SNSD's ideal guy." The direction and development of the relationship between Yoona and Seungi is becoming a topic of interest.
This episode will air on December 8, at 11:05 PM.
Credit: NewsEn
Translation: Glucose@soshified.com/forums