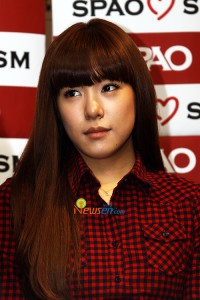 Tiffany of SNSD revealed her jealous side.
Along with other SNSD members and Shinee, Tiffany was a guest on KBS 2TV "Sangsang Plus."
Tiffany, one of the more strong-willed members of SNSD, is also known to be very jealous of her other members.
Tiffany is currently the MC for MBC "Show! Music Core" with Yuri of SNSD. Tiffany said that "there was a time when I exploded with jealousy because of Yuri."
Not too long ago, Yuri brought her fellow members from KBS 2TV "Invincible Youth" into the dressing room that she and Tiffany were using. This visit surprised Tiffany who thought that Yuri had brought them to introduce them to her. However Yuri talked with the girls instead, leaving Tiffany to explode with jealousy and pretend like she was memorizing her script.
Tiffany then said that "I'm also jealous of the nicknames that the members call each other."
This episode will air on December 8, at 11:05 PM.
credits: http://www.newsen.co…912071932331001
translation: soshi00@soshified.com