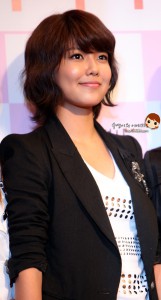 Girls Generation Sooyoung has already finished her two days of 'Starry Night Guard duty.'
Sooyoung has been substituting Kyungrim Park's MBC radio show called 'Starry Night' since November 30th. Kyungrim Park had to perform on musical 'Hair Spray' for a week since it is her first debut stage in musical industry. Because of her absence, Changmin from 2AM and Sooyoung each had to fill in 3 days worth of DJ'ing.
Fortunately, Sooyoung has been showing off her unique volubility through various entertainment programs. Through her stable and witty progress as a first time DJ, She was able to receive countless compliments. Many listeners have posted their comments through Starry Night's mini bulletin, cheering her by saying "Sooyoung is my Star", "Sooyoung's a great DJ", "Sooyoung unni, you should be a DJ soon", and etc.
Chosen as a Starry Night's 'Temp. DJ', she stated "A Starry Nights watchmen! Anyone would desire to sit on this traditional place at least once, and the fact that I will be sitting here makes me very fluttered. Even though I am worried that Kyungrim unni's absence will leave a great emptiness, I believe that the listeners and other guests will sincerely help me filling up any lacking points."
Sooyoung also mentioned "What really amazes me is that during the promotion of 'Tell me Your Wish', me and other SNSD members were invited in 'Starry Night' as a guest. During that time, Kyungrim Unni asked me "What is your wish Sooyoung?", and I replied her back saying " To be a DJ in Starry Night at least one day."
In the mean time, Sooyoung will transform as "Starry Night's Guard" until December 2nd and Changmin will start on 4th, ending his duty on 6th; they both will try to make memories with "Starry Night" for three days.
Source: www.newsen.com/ Credits to Park Se Yeon reporter (psyon@newsen.com)
Translation: soCOOL @ Soshified.com
Picture from: story0210.com
——————————————————-
Sorry for posting it up late guys
..had to face with unexpected formats, and some other school projects…