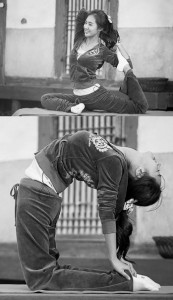 On the 5th episode of Invincible Youth, the G7 members started stretching
and warming up for their day of hard work. Yuri proposed the idea of doing yoga,
the other girls followed suit.
Kara's Goo Hara, showed the most stiff movements, Brown Eyed Girls' Narsha
attempted one movement and said she was tired and lay down,
proving her low stamina making everyone laugh.
The most determined members to do Yoga Training Course were Sunny and Yuri.
Yuri took up the role of teaching yoga.
Sunny was on par with Yuri in flexibility, but lost to Yuri in the splits game
due to her shortage of leg length.
The competition heated up in the legs splitting game,
with many people showing off their well earned flexiblity.
4Minute's Hyuna and Yuri battled it out till the end.
Kim Shinyoung, currently the MC of 'Invincible Youth,' challenged that
she would give double points if they could roll while doing the splits.
Yuri attempted the roll whilst keeping her legs split, rolling twice and bursting out in laughter.
Source: Today Korea
Translation: Just Love~! @ Soshified.com/forums