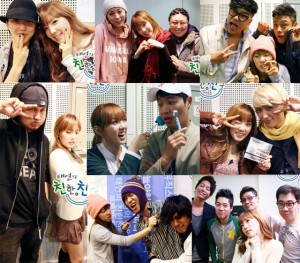 Taeyeon, who is currently active as the host of MBC Radio 'Taeyeon's Chinhan Chingu',
is making listening to radio enjoyable as she spends quality time with the radio guests.
Everyday from 8pm to 10pm (Korean time) she is getting in tune with listeners everywhere.
She hosts the radio effortlessly with her natural talent, distinct style and overflowing cuteness,
something unable to be presented on stage.
She is especially getting attention with her photo collection with guests,
posing in various comical and cute ways, she boasts her lovable personality.
Through the photos, many people took interest as she hugged K Will last month.
It was her expression of joy at K Will's comeback from his positively identified
swine influenza symptoms. It made many netizens jealous, but they praised
Taeyeon for her close relationships with the guests.
Source: Review Star
Written By: Kwon MinYoung
Translation: Just Love~! @ Soshified.com/forums
Note: Taeyeon's Chin Chin can be viewed live everyday at Live Stream 8pm KST