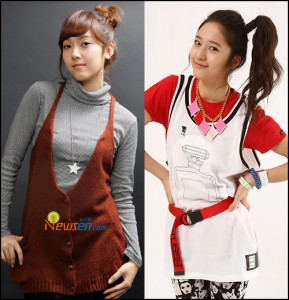 f(x)'s member Krystal (Korean name Jung Soojung) showed affection towards her sister Jessica (Korean name Jung Sooyeon).
Krystal stated in her recent interview with Newsen that she was able to see her sister Jessica during the month of September when f(x) debuted due to Jessica's more relaxed schedule. They often encouraged each other when they met at home or at the practice room. Krystal then said, "But now my sister is busy with musical rehearsals, so we don't get to see each other as much."
She also said, "Before I debuted my sister told me, 'You have potential to be better than me so always try your best. Don't worry and just work hard' and gave me strength," and that "my sister was a huge support when I was worrying right after our debut."
Krystal and Jessica, called the "Jung sisters" by their fans, were casted by SM Entertainment at a young age and have both debuted as singers. 21 year old Jessica is part of SNSD, who debuted in 2007 and is currently the best girl group in the nation while 16 year old Krystal debuted in November as part of f(x).
Krystal further stated that "We have different personalities. While my sister is feminine, I am more of the easygoing type" and "Because my sister is here, it's good to know that I have someone supporting me. Though we haven't been able to see each other in a while, our relationship will never change."
credits: http://www.sosiz.net/info_data/5690385
translation: soshi00@soshified.com