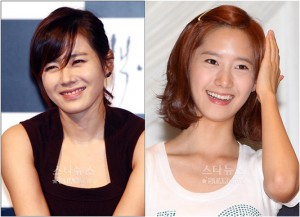 Actress Son YeJin and SNSD's Yoona were picked by male celebrities as top ideal women.
Son YeJin who is called the 'the symbol of purity'
was selected as the ideal woman three times in the 'Ideal World Cup' of 'Champagne.'
Son YeJin was picked by Kim JaeDong, comedian Ji SangRyul and Super Junior's Kim HeeChul.
She was chosen above the likes of MBC announcers Han EunJung and Seo HyunJin and Wonder Girls' SoHee.
Comedian Ji SangRyul picked Son YeJin instead of his previous crush Seo HyunJin.
SNSD's cute, innocent and refreshing Yoona also follows on with Son YeJin in her popularity with males.
Many female celebrities became jealous of Yoona as she was picked by Lee SeungGi in his 'World Cup.'
Last month on the 24th, in the special 'Return of the Idols', Andy the youngest of the group Shinhwa picked Yoona as his ideal.
When Yoona played the 'Ideal World Cup' her ideal man was 'Out of Stock – Yeon JungJoon.'
Source: Media Paran
Translation: Just Love~! @ Soshified.com/forums