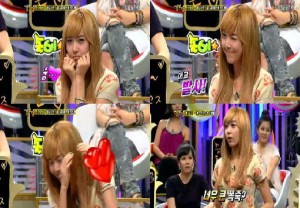 SNSD's member Jessica revealed 'a set of 3 mistakes' at a variety show.
On the broadcast of SBS "Strong Heart" on the 17, Jessica shared her story titled "Dance Singer's Sadness" which talked about mistakes she had made in the past. Not only did she talk about it, she stood up and physically showed her 'set of 3 mistakes,' making the guests laugh.
First was the choreography of "Tell Me Your Wish" when her shoes came off during the hackeysack dance. Second was the incident when she was shockingly surprised due to the fireworks during the performance of "Gee." Last was during the lipsinging performance of "Way To Go" when there was a malfunction of the sound system.
In addition, Jessica who received a meaningful present from an actor, Seo Jisuk, showed appreciation by actually putting it during the show. Seo Jisuk confessed that "he was a fan since he was in the military and that he has been waiting for this moment for 2 years," showing a direct attitude.
Jessica replied, "I am also a fan," and showed 'a set of 3 aegyos' creating happy atmosphere.
On the other hand, this episode of "Strong Heart" included Suh Jisuk, singers Solbi, Danny Ahn, Eun Jiwon, MC Mong, SNSD's Jessica, actors Kang Jisup, Lee Yujin, Kim Jiwoo, and comedian Baek Boram.
credits: http://www.sosiz.net/info_data/5693345
translation: soshi00@soshified.com