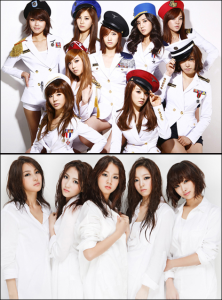 The warm friendship relation between SNSD and KARA is becoming a hot topic.
The close friendship of national representative girl group SNSD and KARA's members is already well known. Maybe because of their debut being on the same year along with similar periods of promotion activities, these two teams are friends since a long time. Moreover, being both girl groups, they must have a lot in common along with a not so high difference in age, making them build a friendship even with the battle of girl groups.
Recently, SNSD's autographs are gathering attention as they can be seen at the Ramyun Restaurant owned by KARA's member Nicole's mother, located at Kangnam. The fact that SNSD went to that Ramyun Restaurant displayed their friendship with Nicole. Plus, this restaurant is visited not only by SNSD, but other idol groups's members come daily, making the place famous in the entertainment world.
One of its employees commented, "Differently from what some fans think, the members of both teams get along together really well"; "Some time ago, SNSD's members came to the restaurant with Nicole. (And) They both don't hesitate when helping or advicing each other."
On the other side, SNSD and KARA finished their promotional activities and are focusing in individual activities. With each of them preparing for a new album's release, we predict that, sooner or later, we can see the 'SoKa Line' (SNSD-KARA Line)'s action again.
source: newsen
Translation: jek_093 @ Soshified.com/forums
Side note: "Ramyun" can refer to instant noodles or the Chinese-type noodles.
Nicole's mother probably sells various kinds of noodle at her restaurant. But that's just my guess… haha