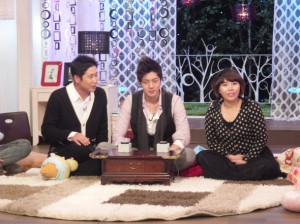 [Newsen reporter Chayeon]
Jessica of SNSD has revealed that Kim Hyunjoong of SS501 favors Krystal over her.
During the filming of KBS 2TV 'Champagne,' where SS501 were the special MC's, Jessica revealed, "Kim Hyunjoong told me, 'Krystal is prettier than you.'" Krystal is Jessica's younger sister and is part of the girl group f(x).
During the segment '32 Ideal World Cup' where players find their ideal guy/girl, Kim Hyunjoong confessed that he likes Krystal better than Jessica. Later he confidently said, "I'm being really honest" and "Even in SNSD Jessica is just average" and cracked up the audience.
This show will be aired on November 7th at 11:20 PM.
(picture credits= KBS sponsor [above], Krystal's me2day [below])
credits: [url="http://""http://www.newsen.com/news_view.php?uid=200911070924121001″]http://www.newsen.co…911070924121001[/url]
translation: soshi00@soshified.com