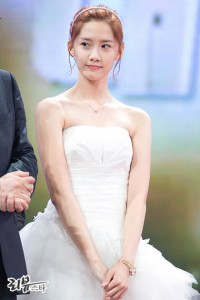 Yoona of girl group SNSD confessed that she had a fear of cameras for a while.
On SBS "Strong Heart," which airs today on the 3rd, Yoona surprised the guests of the show by revealing that she had to "deal with the fear of cameras." This can't be ignored by fans considering that Yoona has been actively promoting and working as a singer and an actor.
During the show, Yang Jungah of SBS "Golden Miss is Coming" also revealed that there was a rumor that she has been bullying Yeh Jiwon which caused much trouble for her emotional state.
Agreeing with YJA's story, Yoona carefully shared her experience with rumors about the "Bullying Tiffany video." Yoona explained the past rumor and what had actually happened. She also truthfully confessed how the relationship between Tiffany and herself had changed afterwards.
Yoona stated, "That was when the fear of cameras started," and added, "The fear was so great that it was almost painful." The truth allowed the guests to feel her pain. Also the "Bullying video" situation's victim Tiffany, as one of the guests, had the chance to confess about her side of the story.
Meanwhile, SBS "Strong Heart" which contains Yoona's truthful confession will be aired on November 3rd at 11:05 PM.
credits: http://kr.news.yahoo.com/service/news/shel…;newssetid=1352
translation: soshi00@soshified.com