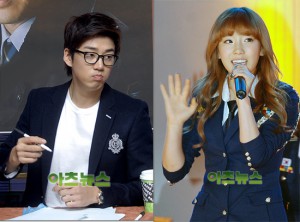 On the KBS 2TV's program, , Yoon Kyesang made an appearance in the "Special Autumn Man" episode and revealed his feelings towards SNSD's Taeyeon.
Participating in a talk show after a long time, Yoon Kyesang revealed his ideal type in the corner 'Ideal Type World Cup'.
When SNSD's Taeyeon came up as a candidate, he revealed, "During my military service, I really liked SNSD. Between the members, I liked Taeyeon the most who I thought was pretty and could sing well." Plus, "I also listen to Taeyeon's radio."
The real ideal type of Yoon Kyesang, who openly talked about being a SNSD's Taeyeon fan, can be seen on the next broadcasting of KBS 2TV's , next October, 31th, Saturday, 11:20PM.
source: here
Side note: for those who don't know, Yoon Kyesang was a G.O.D member, but got out of the group to be an actor.