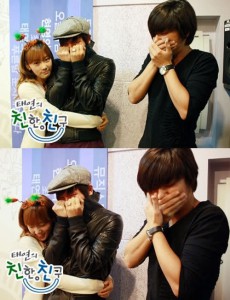 The released pictures of SNSD Taeyeon hugging K.Will is becoming a discussion topic.
The pictures that drew attention were the ones that were updated on the MBC 'Taeyeon's Chin Han Chin Gu' radio homepage on the 26th of Taeyeon tightly hugging K.Will.
In the picture, Taeyeon can be seen holding K.Will closely and is smiling at the camera while K.Will is covering his face with his hands and seems to be embarrassed.
And Ilak who was standing by them is covering his own mouth with his hands and posed as if he was trying to hide his embarrassment.
The staff of ChinChin posted a comment with the picture saying, "We had various thoughts when we heard the news of K.Will coming to the studio. Whether we should all be wearing masks or typing with latex gloves on our hands."
But they also stated below, "We aren't like that. We're like a family, we won't be afraid of K.Will. We will not be afraid."
Reacting to this comment, Taeyeon hugged K.Will as a statement saying, 'I won't be afraid of the flu that K.Will was infected with' while Ilak made the statement of 'I should be careful' by posing far away from the two and covering his mouth.
K.Will, who has been a set cast on the show was under treatment at his home when it was stated that he was sick from the flu on the 14th. However, after the treatment, he has officially recovered since the 21st.
(Pictures: MBC)
—
Credits: Newsen.com
http://newsen.com/news_view.php?uid=200910…%E0%BD%C3%B4%EB
Translation: k_Taevid @ soshified.com