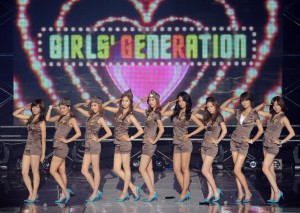 Girls' Generation's new song, "Genie," drew mixed reactions
after the girl group unveiled the song for the first time at Music Bank of KBS-TV Friday evening.
The members of Girls' Generation, attired in marine uniforms,
danced, making big leg movements.
Many Internet users reacted positively to the song,
saying it was unique, charming and nice.
But some other Internet users downplayed the new song,
alleging that it was made in a hurry.
"Genie" ranks first in various online music charts:
Cyworld charts 1st place
Melon.com 1st place
Dosirak.com 1st place
Mnet.com 1st place
Bugsmusic.com 1st place
Muz.co.kr 1st place
Soribada.com 1st place
Nate Ringtone 1st place
Girls' Generation plans to release its new mini album
containing the flagship song and five other songs Monday.
Girls' Generation has been shining in the local music market
since its debut in 2007 with a string of success:
"Into the World," "Girls' Generation," "Kissing You," "Baby Baby," and "Gee."
Its members include Yoona, Tiffany, Yuri, Hyoyeon, Sooyoung, Seohyun, Taeyeon, Jessica and Sunny.
Credits: Korea Times
Translation: Just Love~! @ Soshified.com/forums